These pages are from an autograph book belonging to my great-grandmother, Mabel C. (Morgan) Dunham (1879-1960). Most of the autographs were written in the months prior to her marriage to Elton L. Dunham in September 1896. The book seems to have been in use around the same time as Elton's second autograph book. See also Mabel's first autograph book.
Rev. Alphonso Kingsbury Bryant (1859-1924) was the minister who married Elton and Mabel in 1896.
Viabelle E. (Bicknell) Verrill (1872-1938) and her husband Fred lived not far from the Morgans on Patch Mountain in Greenwood.
Lydia Elvira Swan (1887-1981) was the daughter of Elton Dunham's sister, Carrie Estella (Dunham) Swan.
Leon Alpheus Brooks (1873-1927) was a near neighbor of Elton Dunham on Rowe Hill in Greenwood.
Leon married Rose Etta Starbird on Mar. 17, 1896—just a few days before she signed this book.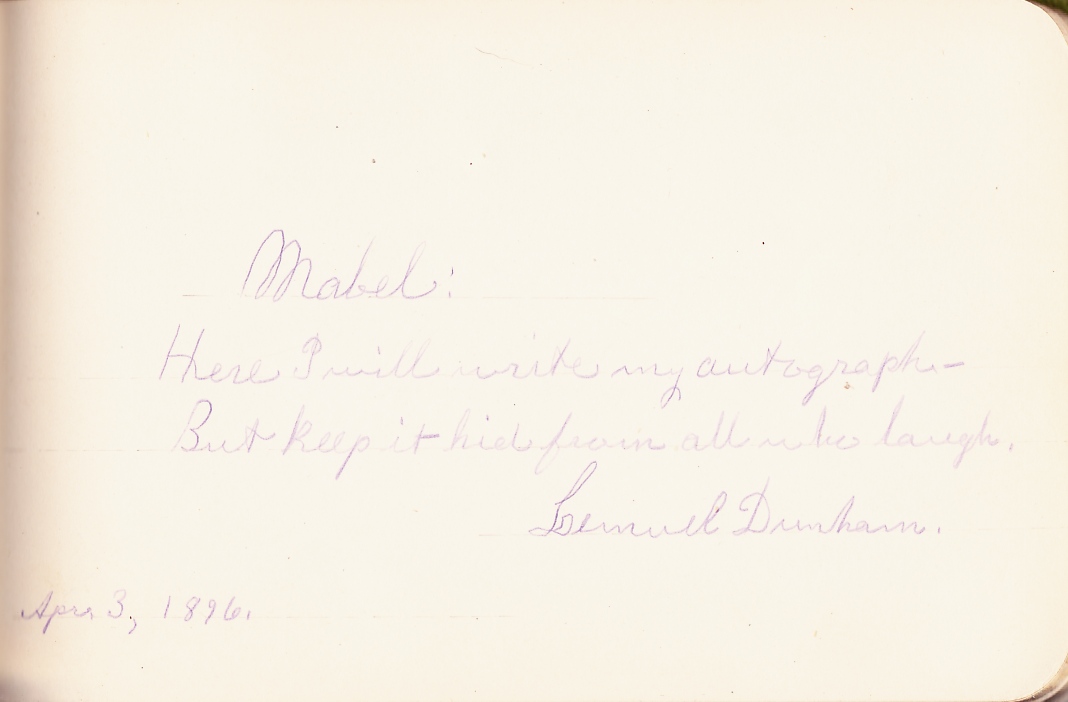 Lemuel Dunham (1830-1915) was Mabel's future father-in-law.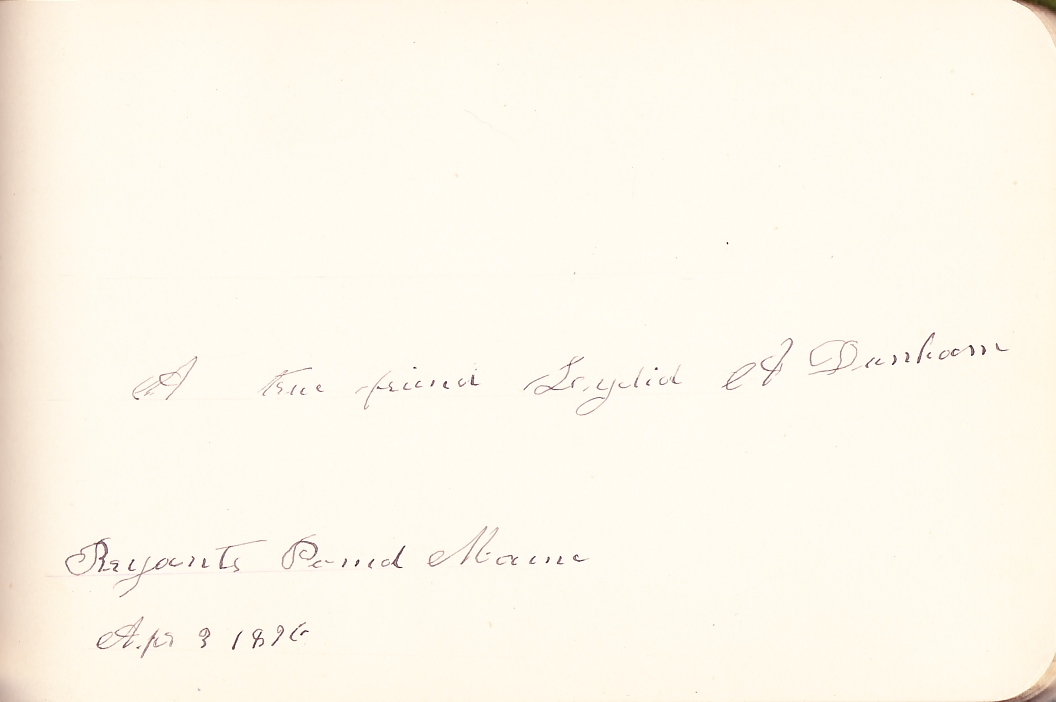 Lydia Ann (Cummings) Dunham (1831-1916) was the wife of Lemuel, the mother of Elton.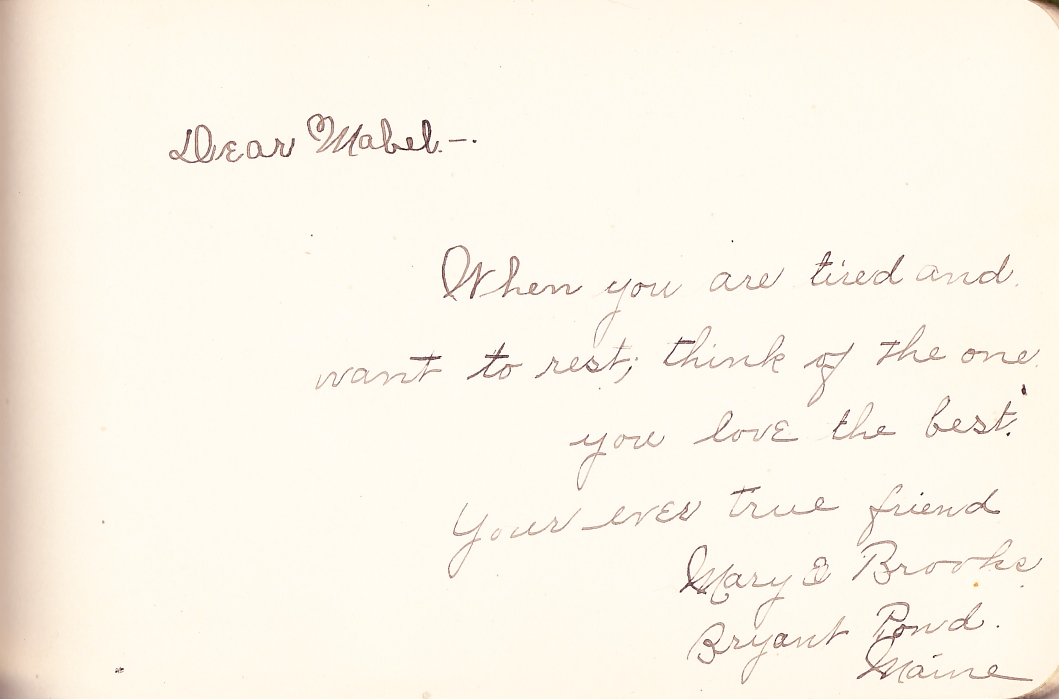 Mary Estella Brooks (1886-1951) was the little sister of Leon A. Brooks, mentioned above.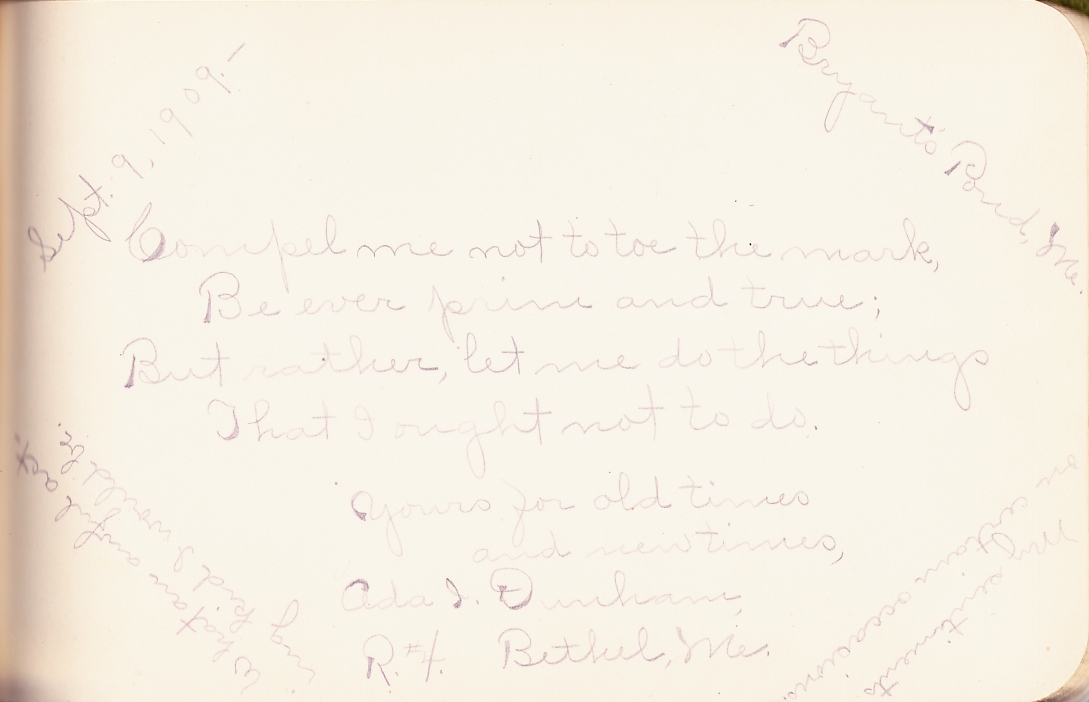 Ada Isidore Dunham (1885-1976) was the daughter of Lemuel Dunham's half-brother, Charles.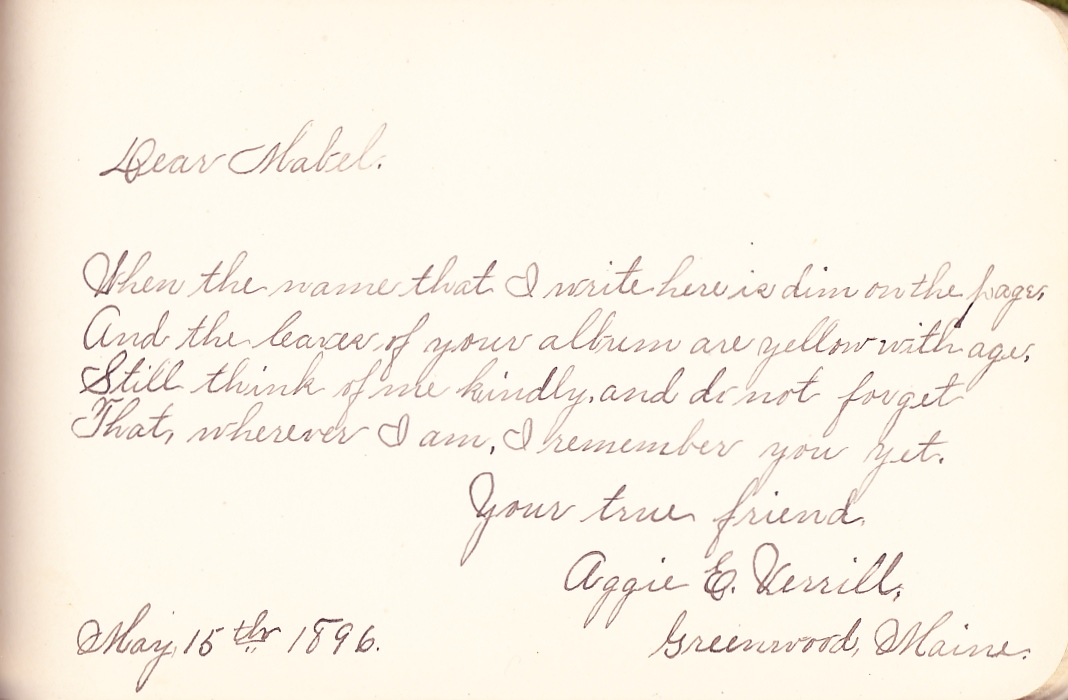 Agnes "Aggie" Ethel Verrill (1877-1951) was the half-sister of Fred C. Verrill, mentioned above, and another neighbor of Mabel's family on Patch Mountain.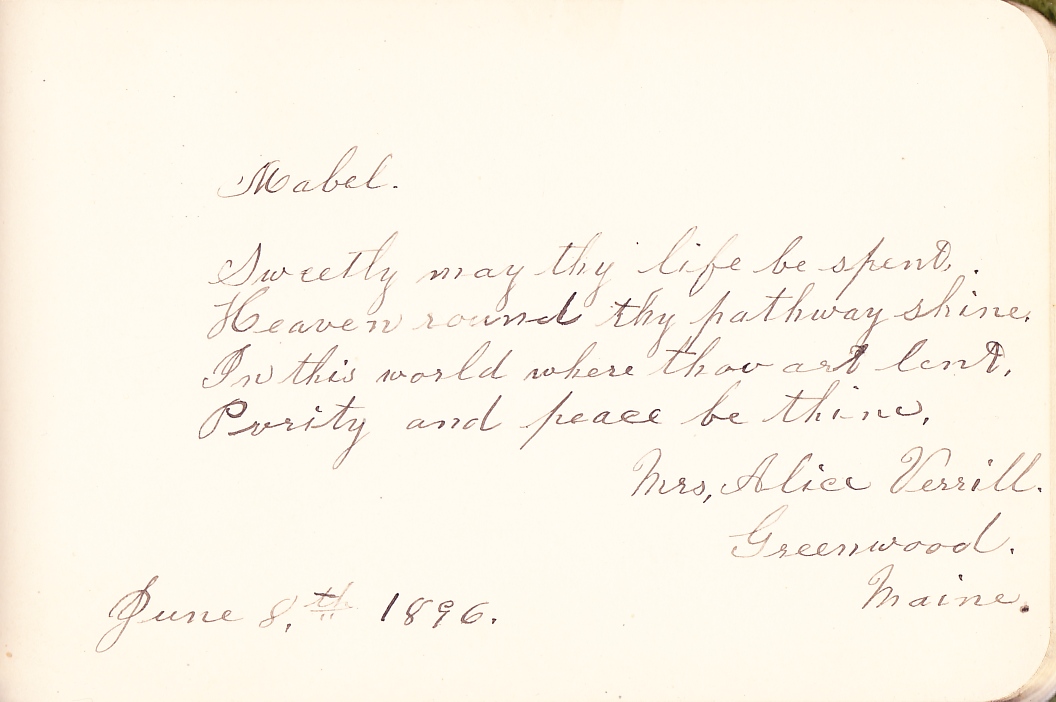 Alice (Ellms) Verrill (1838-1923), the mother of Aggie and stepmother of Fred.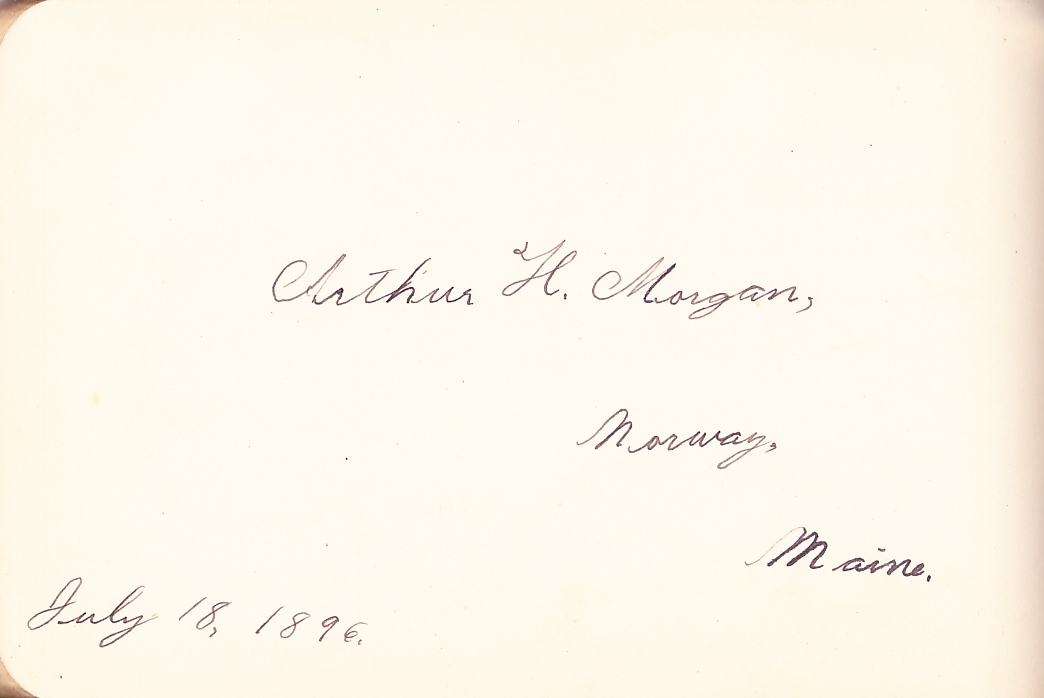 Arthur Harry Morgan (1875-1957) was Mabel's cousin and former neighbor, the son of Charles F. and Elsa A. (Morgan) Morgan.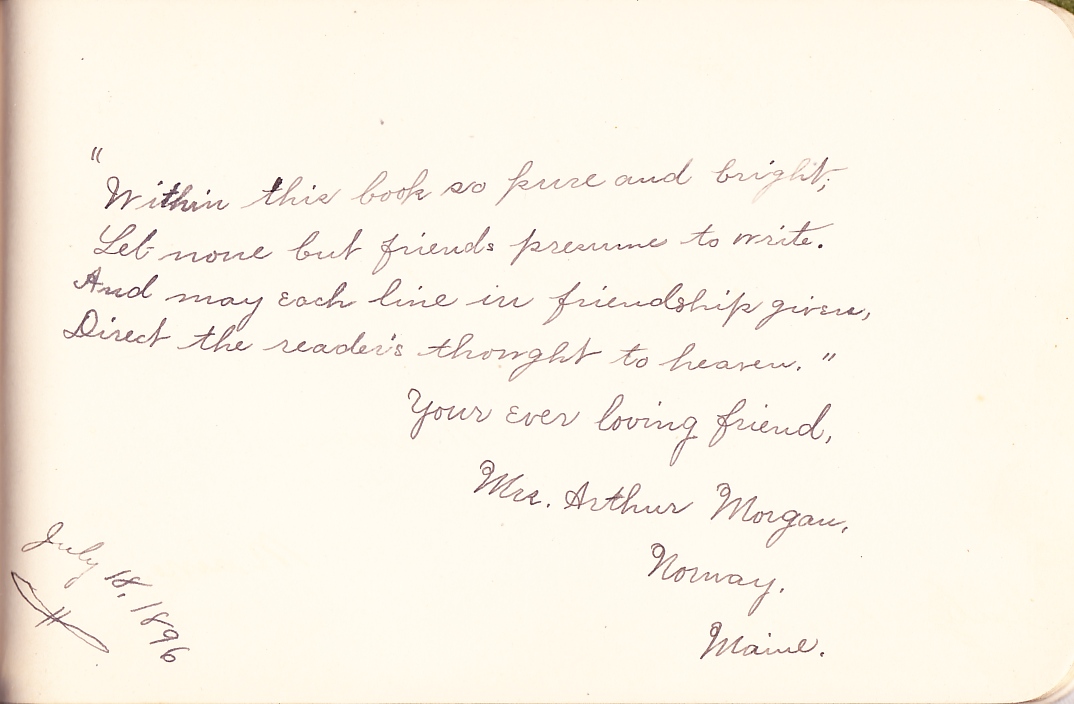 Arthur's wife was Carrie B. Trafton (1872-1906).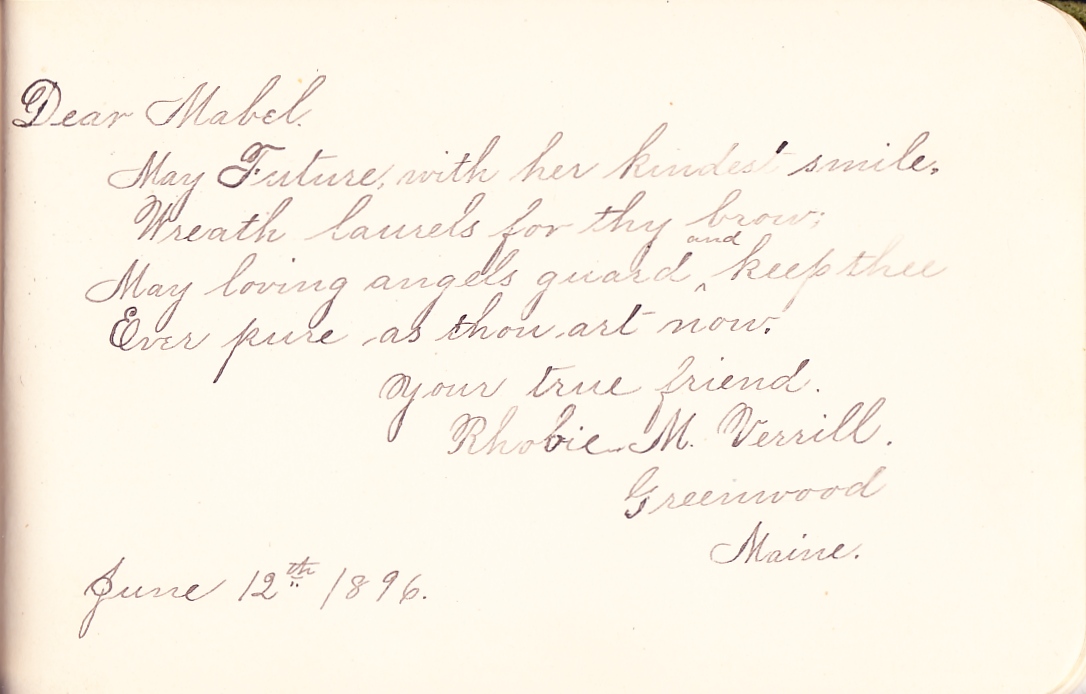 Rhobie Maria (Hewitt) Verrill (1869-1933) lived on Patch Mountain with husband Frank.